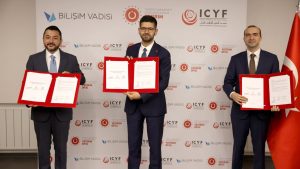 A landmark protocol was signed among ICYF, Investment Office of the Presidency of Turkey, and Bilişim Vadisi to establish an Innovative Entrepreneurship Center in Istanbul. Here are what this center is set to achieve and opportunities it will provide to the youth in OIC geography and beyond.
The OIC region has untapped potential in innovation and entrepreneurship if the young population is educated and equipped with creative skills. However, the region currently faces major global challenges that directly affect the youth. Today, for every 1 successful young individual two are left behind in need of work. 75% of youth owned businesses face hurdles and fail prematurely. This is mainly due to high costs of running the business at the initial stage, lack of support, and lack of exposure to the market. Furthermore, according to the World Bank, over 1 billion young people are set to enter the workforce in the next decade but only less than half will be employed in the formal sector. These problems will keep exacerbating since the world is younger than ever. ICYF is making remarkable strides to be part of the solution for these problems and the new innovation center is one of such efforts.
The innovative entrepreneurship center will have components such as Capacity Building and Innovation, Entrepreneurship, Seminars and Workshops, Networking Initiatives, and programs for Economic Empowerment. The center will provide free workspace for entrepreneurs to work in. It will also provide mentorship and training for youth entrepreneurs and give guidance in multiple levels of startup development. The center will organize funding opportunities and access to investors. It will also provide working capital and loans to young entrepreneurs to support their business ventures.
Inorder to provide such opportunities, the center will establish a hub for technological and scientific innovation in Istanbul that will form the nucleus of the OIC's center for youth development radiating to innovation and technological progress to the rest of the region. By doing so, the center aims to eradicate economic inequality affecting the youth in the OIC region and reduce absolute poverty and unemployment by creating opportunities and platforms for the youth to exhibit their abilities. Through the promotion of science and technological innovation more jobs will be created for the youth which in return will fuel the economy of the OIC region and raise the standard of living. For this end, ICYF will support projects and initiatives led by the youth through funding and mentoral assistance to turn their ideas into successful ventures that contribute to community development. Partnerships and joint ventures will also be encouraged to help youth owned businesses gain exposure and enter new markets.This will create a productive ecosystem for startups and technology ventures.